These polycarbonate dome rooflights provide comfort ventilation and both heat exhaust and natural smoke ventilation. Brett Martin Daylight Systems Mardome Trade Smoke Vents can be installed on all modern buildings with a flat roof and their design and subsequent manufacturing are both ISO9001 quality approved. In addition to this, the products are EN12101-2 : 2003 tested and certified. Further specific detail and dimensions can be found on the technical data sheet in the technical information section.
If you are looking to improve the natural light level in your premises and need it be durable, consistent and contemporary then the Mardome Trade Smoke Vent Rooflight is perfect for you.
Accessories include fireman's priority switch, smoke detector and fire switch all available with a control panel as an optional extra.
Control Panel 5A / 8A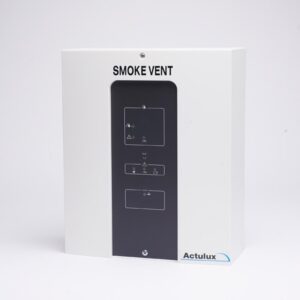 Fire Switch
Fireman's Priority Switch
Smoke Detector