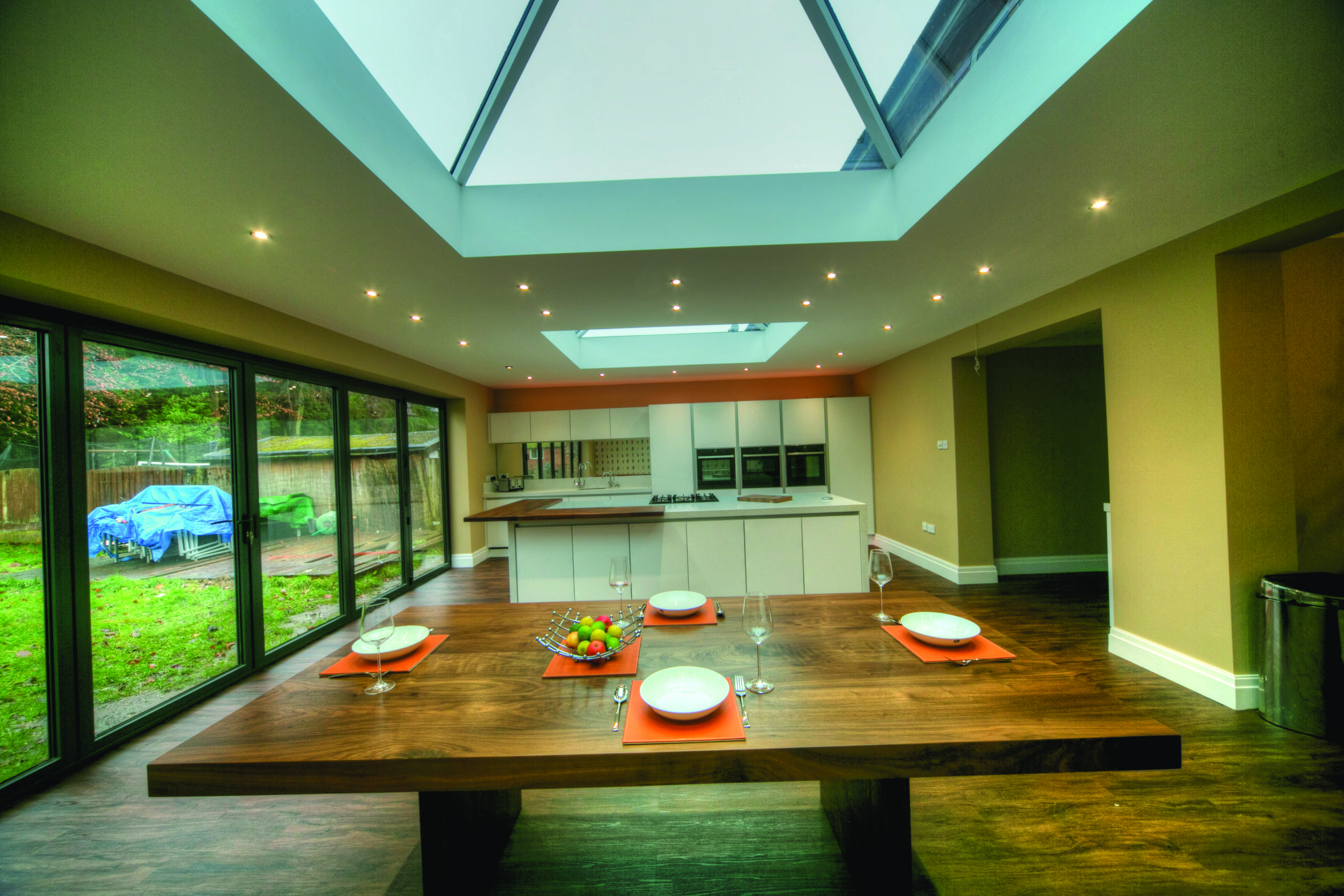 Rooflights make for a stunning centrepiece to any home or office. They contribute to a striking modern aesthetic, increase natural light, and offer stunning views of the sky: it's no wonder they're so popular.
But are rooflights and skylights energy efficient?
Yes – rooflights are proven to be energy saving and environmentally friendly. By increasing the volume of natural light that enters your room, rooflights and skylights can make your building more energy efficient, reducing CO2 emissions and saving you money. Plus, the extra warmth from the sun's rays can even lower your heating bill.
In this complete guide to rooflights and energy efficiency, we'll provide helpful information and answer frequently asked questions related to the topic. Read on to see how you can reduce your energy bills with Toughened Glass Systems.
Reduce energy consumption with rooflights and skylights
While primarily admired for their aesthetic qualities, rooflights and skylights are effective at reducing energy consumption and cutting energy bills. With energy prices rising, and the cost of living increasing to no seeming end, individuals, families, and businesses alike are seeking shrewd and reliable ways to lower their monthly expenses. 
But how exactly can rooflights save you money?
How can rooflights and skylights make your building more energy efficient?
There are several ways that rooflights and skylights can make your building more energy efficient and save you money. Let's look at each in more detail.
Increasing natural light
Rooflights can add much needed light to a space which is otherwise tight and unable to accommodate a decent-sized, traditional window. This might be the case in a bathroom extension, where wall space is required for fixtures such as shower cubicles, baths, basins and toilets. Fixed roof lights come in a wide variety of shapes and styles, and are often tailored to the unique space they are to illuminate. 
But how do rooflights help homeowners UK-wide to reduce their energy bills? Well first, there are the benefits of introducing natural light into a room instead of being completely reliant on electric lighting. It's estimated that a roof light allows up to three times more light into a room than a window in the wall. Moreover, because they are installed in panels on the roof, more glazing can be incorporated than if wall space was taken up, thereby maximising the amount of light that can flood in. Reducing the need for artificial lighting therefore reduces your energy bills proportionately. This has the positive side benefit of cutting the amount of CO2 emissions your home produces, making your home and lifestyle more environmentally friendly. 
Increasing solar heat
Glass rooflights also allow more heat into the room from the sun's rays. This solar heat means you'll use less central heating in the space in question – ideal in the long winter months! Plus, you can magnify this effect if you talk to your supplier about installing skylights with double or triple glazing. That way, you continue to benefit from the light from the windows but without having to worry about the heat generated leaking out.
This is measured by the u-value calculation, which tells you the rate of heat loss of a window. Ask an experienced and specialist supplier of fixed flat glass rooflights, such as the team at Toughened Glass Systems, and we can advise on the best rooflights to help save you money while flooding your home with natural light.  Contact us today to find out more.
How are rooflights made to be energy efficient?
There are various ways skylight specialists ensure that skylights are energy efficient, relating to materials and manufacturing, installation, size, location, placement and more. Below, we look into each factor in detail.
Shape
Rooflights come in a range of shapes, and you're sure to come across flat skylights, pyramid skylights and domed skylights. Pyramid and domed rooflights capture light from all angles throughout the day, making them some of the most efficient products available when it comes to increasing natural light. Designed so that light seamlessly refracts through their novel shapes, you'll find your room suffused with the sun's glow. Plus, they tend to have smaller surface areas, further improving insulation.
Flat rooflights are more traditional in appearance, and are easily recognised for their beauty and practicality. They're also incredibly effective when it comes to reducing light energy consumption, and will ensure your room is pleasantly illuminated. 
Size
It's recommended that skylights be 3-5% of the floor area of a room. While larger skylights will let in more light, it's important to contact a rooflight specialist to find a solution tailored to the requirements of your building.
Location
A skylight's location plays a significant role when it comes to reducing energy consumption. In cold climates, a south-facing roof slope will maximise sunlight; in warm climates, a north-facing slope is better suited. For areas that experience all temperatures, placing your skylight on an east-facing slope may be the best option, as your home will benefit from morning sunlight and be shaded from the afternoon's heat. A conversation with an industry specialist like Toughened Glass Systems will help you find the perfect location for your rooflight.
Glazing
Rooflights using single, or poor, glazing will not reduce energy consumption. Likewise, low quality glass can only make matters worse. This considered, it's essential you choose quality glass and energy efficient glazing options if you're looking to make your building more energy efficient. All of our rooflights and skylights are made with advanced and dependable glass and glazing technology, helping you save money and reduce your CO2 emissions.
Slope
Skylights should be tilted to a minimum pitch or fall of three degrees to ensure that they effectively drain water. However, the pitch will also impact the volume of natural light that will flood into your room. Speak to a professional who can advise you on the perfect pitch for maximising light.
Materials and ventilation
It's essential to find a skylight with a low u-factor if you're looking to retain heat and save energy. Double and triple glazed skylights are the most efficient, and you'll find both available at Toughened Glass Systems.
Ventilation can improve air quality and prevent mould, making for a helpful feature that can save you money. We stock a variety of opening rooflights which can aid ventilation in your home or office.
Considerations for energy efficient rooflights
To make your rooflight as energy efficient as possible, there are a few things you'll need to consider. Let's take a look at each in detail. 
Choosing the right rooflight
It's vital that you choose a window best-suited to the requirements of you and your building. For instance, windows with high solar heat gain will make your room warmer in winter, but can trap heat throughout summer. If you're not sure what product is best for you, don't hesitate to contact us – our expert team will listen to your circumstances and help you find an all-year-round solution.
FAQs
We've answered some frequently asked questions related to energy efficiency in rooflights.
What is the most energy efficient skylight?
Our most thermally-efficient rooflight is the flat rooflight with the triple glazing option. Designed to prevent heat escaping and reflect interior heat back into the room, the skylight has undergone thorough independent RVA accredited testing and met the requirements for Air Permeability (EN12207) and Water Tightness (EN12208). 
If you'd prefer a different design, all our rooflights and skylights have passed rigorous testing to ensure they're energy efficient, so find a style that suits you from our collection.
Do skylights lose heat?
If you buy a low-quality skylight from a company without industry knowledge and expertise, it's possible that it may lose heat in the winter. However, when you buy from a reliable company, your rooflight will not lose heat.
Our products are thermally broken to prevent heat loss, while the extra daylight your skylights give you will provide some extra warmth. By using high-grade materials, finding a product that's tailored to your building, and installing your rooflight correctly, we'll make your building more energy efficient. 
Will a skylight heat up my home?
A high quality skylight will likely heat up your home as a result of direct sunlight beaming into your room. In winter, this is desirable, and will help you save money on the heating bill. In summer, a professional rooflight company will help ensure your new addition doesn't have the opposite effect of making your home too warm. At Toughened Glass Systems, we offer guidance on the best rooflight size, shape, position, location, glazing, finish and more, tailoring each aspect so your skylight is as energy efficient as possible. That way, you'll enjoy some extra warmth in the cold winter months and won't need to worry about the heat in summer.
Why it's vital to choose a rooflight expert
There are common misconceptions that rooflights can be detrimental to the energy efficiency of your building. When this idea is put forward, proponents usually point to claims that rooflights and skylights trap heat during the summer and allow cooler air in during the winter months. However, these results are almost always a consequence of unsuitable products, poor materials and substandard installation. 
When installed incorrectly, this is not the case, so if you want your rooflights to perform to their highest level, it's essential that you buy from a trusted retailer. Purchasing lower quality rooflights and skylights that aren't fit for purpose is far less likely to make your building energy efficient. Furthermore, employing someone without experience to fit your new addition will almost certainly prove to be a costly mistake. Badly installed rooflights and windows can bring about air or water leaks that can be costly, not to mention the discomfort they'll cause.
We have years of experience in the industry, and our knowledge and expertise have helped countless businesses and individuals throughout the UK save money on their energy bills. As rooflight specialists, we'll support you through the whole process, from before your purchase is made until after installation. 
Why choose Toughened Glass Systems?
Our business is completely client-orientated. We start by understanding the skylight needs of our customers and can manufacture custom rooflights to suit you. We work with people in a range of specialities, from architects designing new build properties, to building owners looking for flat roof skylights. As our name suggests, our glazing is toughened to ensure the highest quality of skylight build. Our client-orientated approach means we provide a terrific customer service experience, including price-matching the quotes of any competitors. Don't take our word for it – view our client testimonials to see what they had to say about our products and service.
To receive a quote from our team, simply visit our contact page, call 020 3633 3224, or email us at [email protected].
Buy energy efficient rooflights, skylights and roof windows
At Toughened Glass Systems, we stock a wide range of roolfight, skylight and roof window products. View our impressive collection below:
More useful blogs: