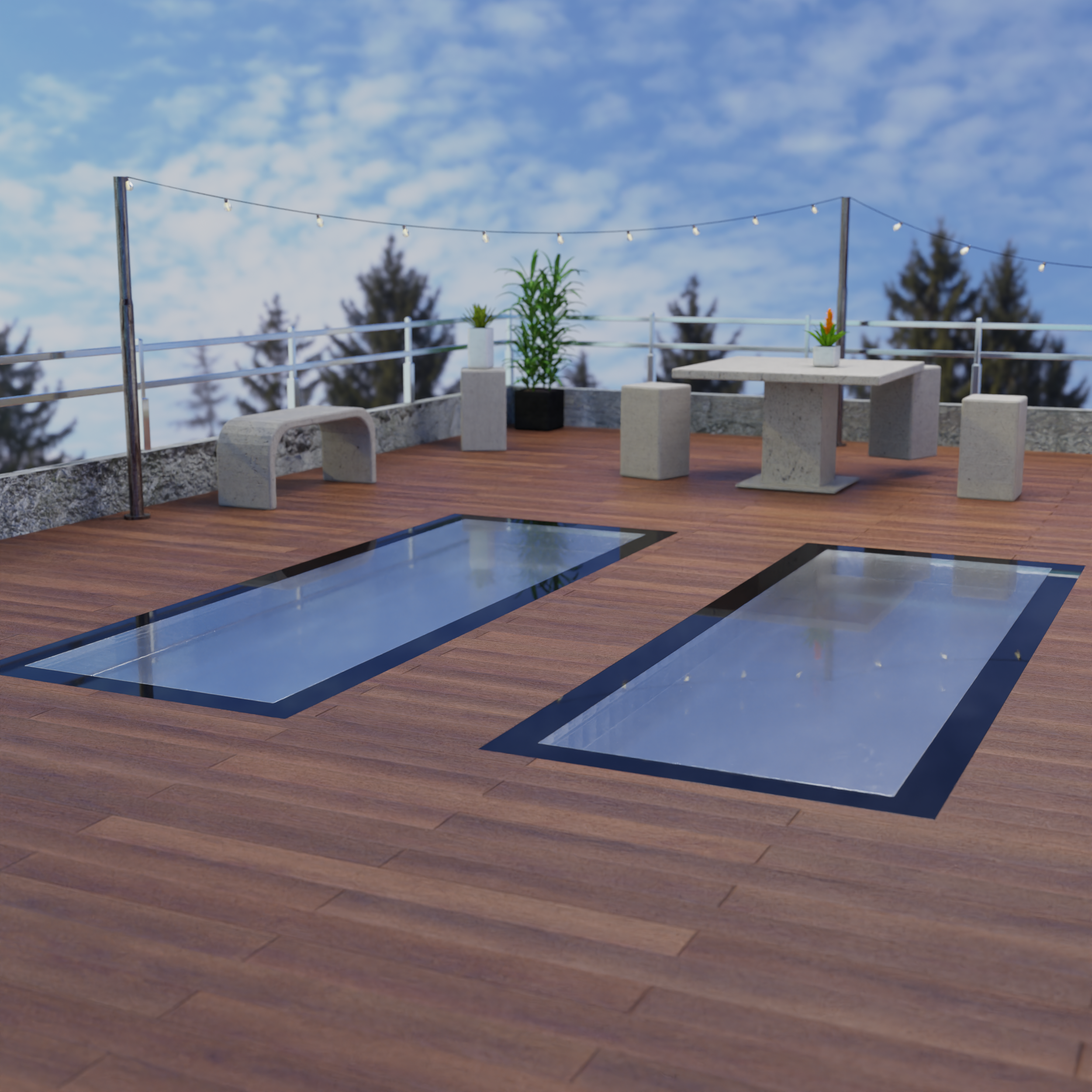 Welcome to your ultimate guide to rooflight and skylight costs. In this post, we'll talk about different factors that can affect the price of rooflights, including size, materials, design, and more. We'll also provide a helpful price guide for all our rooflight and skylight products, with practical information to support you in finding your new feature. 
We offer a price match guarantee on several products, meaning you can buy from a rooflight expert at the lowest price.
How much do rooflights cost?
The cost of rooflights and skylights varies depending on factors like size, style, scope, materials, features, glazing, and so much more. At Toughened Glass Systems, you'll find rooflights from as little as £100 to around £12,000, not including VAT.
What impacts the price of rooflights?
Let's take a look at the various factors that can impact rooflight costs.
Size
As you'd expect, larger rooflights are going to be more expensive. They'll require more glass, more materials, and may cost more to install. It's important to contact a professional company to make sure you get the perfect size for your building.
Quantity
Similarly, more rooflights will cost more money. Again, you'll benefit from speaking to a specialist company who will guide you towards the most cost-effective solution. Style and quantity are dependent on other factors like design, materials, and features, so having a conversation with an expert will help you find a rooflight that looks great without breaking the bank.
Materials
While good materials will be more expensive, they're essential for the performance and durability of your skylight, and will help you save money in the long run. All our rooflights are made with high quality materials and modern technology, making them high-performing and long-lasting. While choosing cheap materials may seem more appealing in the short-term, there's no doubt you'll come into costly issues further down the line if you cut corners.
Positioning
Rooflight installation costs may be higher if the location of the feature requires extra labour or equipment. Simple factors like roof height can make a difference, so careful planning is important.
Type or design
Different designs cost different amounts, so the style you select will determine the price. We've included some more information on rooflight prices by design below.
Rooflight prices by design
Rooflights come in a variety of designs and sizes and offer a range of functions, such as automatic opening and emergency ventilation. There are many reasons to consider a skylight installation, and it is important to decide what functions you require prior to purchasing. 
Toughened Glass Systems have created this comprehensive guide on some of the most popular skylights and rooflights available today, along with pricing information, functionality, and design specifications.
We offer a wide range of bespoke skylight solutions for any building environment, and can talk to you directly to decide the best solution for your needs. Whether you need a skylight as an aesthetic choice to maximise the natural light in your room, as ventilation, or even as an emergency exit. You can find out about our complete range below.
You can also read our blog on rooflights and energy efficiency for more information on how you can save money with an expertly installed skylight or rooflight.
Price range: £217.00 to £1446.00 excl. VAT (all prices valid as of September 2022)
Flat rooflights can increase the natural light levels of your room by almost 100%, and will benefit more from the sunlight than a vertically placed window. 
Toughened Glass Systems offer highly competitive rates. Our flat roof skylight costs range from £271.00 excl. VAT for a 600 x 900 mm double-glazed rooflight with a clear finish, and includes an easy-installation guide and fast delivery within the UK; to £1446.00 excl. VAT for our triple glazed, beautifully frost finished rooflights.
All flat rooflights are offered with the option of self-cleaning for your ease. Flat rooflights are very cost effective and can be made to specific sizes.
Price range: £338.00 to £2837.64 excl. VAT (all prices valid as of September 2022)
Framed flat skylights are a stunning addition to your home, providing extensive light coverage to your room with double-glazing and high thermal efficiency throughout the year. 
Skylights in this category come with high quality, factory sealed aluminium frames to fit comfortably with the style and decor of any room. Toughened Glass Systems offer framed rooflights in sizes ranging from 600 x 600 mm at an unbeatable £338.00 excl. VAT, to 3000 x 1800 mm at a low price of £2837.64 excl. VAT. The framed flat rooflight is supplied with an internal laminated glass pane providing additional safety in the event the inner glass pane was to break.
Price range: £536.80 to £2068.17 excl. VAT (all prices valid as of September 2022)
Skylights that feature an opening mechanism will provide your room with ample natural lighting, and are functional as a means of ventilation or roof access.
As a means of access, a manually opening skylight comes with a pole to allow for quick opening that can function without the need for electricity – for instance in a power cut. These can be ordered for as little as £536.80 excl. VAT.
Electric opening skylights can be operated via a mains switch, remote control, or even set to close automatically through the use of rain sensors. They can range from just £696.98 excl. VAT for a mains powered skylight with a wall switch, to £2068.17 excl. VAT for an electric opening skylight with a rain sensor, remote, a wall switch, and a beautiful Stippolyte glass finish for privacy.
Price range: £735.31 to £4,324.05 excl. VAT (all prices valid as of September 2022)
Roof lanterns provide your room with maximum natural lighting through their unique, angled design. The 25° pitch of the glass will protract light into your room to allow for a fuller coverage versus flat rooflights, with the elegant glass shape and concealed fittings making a perfect addition to any environment.
Korniche oof lanterns are available in both neutral and blue tint glass in a range of sizes. You can get yours for as little as £436.51 excl. VAT for a 500 x 500 mm model, up to £1,951.47 excl. VAT for the visually striking 2000 x 4000 mm roof lantern with a tinted blue glass finish.
Price range: £298.26 to £1,621.58 excl. VAT (all prices valid as of September 2022)
Dome rooflights are a great lighting solution for a range of professional and domestic buildings.
Their compact, aerodynamic shape and design will allow natural light to enter the desired room for long periods of time. Whereas many rooflights are chosen as an attention-grabbing centre-piece, dome rooflights offer subtle natural lighting and ventilation solutions without drawing attention away from the room itself.
The squared shape of Dome rooflights mean they can fit into a wide range of spaces, making multiple installations feasible. Dome rooflights are more robust than glass rooflights whereas glass rooflights are more aesthetically pleasing.
Dome rooflights can be purchased for as little as £99.42 excl. VAT for a single glazed, 450 x 450 mm model, and are available in sizes up to 2400 x 1800 mm.
Price range: £782.00 to £3,218.00 excl. VAT (all prices valid as of September 2022)
Walk on rooflights are specially toughened and laminated to support human weight depending on the size of glass ordered. They'll provide an elegant lighting solution to your basement conversion or roof terrace, without taking up valuable walking space like with a traditional rooflight. They are also framed in a charming black border that lends itself perfectly to the theme of any room, terrace or conversion.
Walk on rooflights are also insulated with argon gas to provide maximum thermal efficiency to your room. You can find more information on why argon gas is used in double glazing in our energy efficient rooflights blog.
You can purchase walk-on rooflights in a range of sizes for as little as £782.00 excl. VAT for a 600 x 900 mm model, with a top pane of 800 x 1100 mm. Walk on glass rooflights can also be made to custom sizes.
Price range: £386.25 to £2,351.80 excl. VAT (all prices valid as of September 2022)
Available with single, double, and triple skin glazing options in a huge range of sizes, polycarbonate dome rooflights are the perfect natural lighting solution to overcome the challenges of refurbished roofing projects thanks to their low rise and flexible fixing positions.
Toughened Glass Systems' dome rooflights feature high quality long life polycarbonate, which provides significantly more strength than regular glass, and provide ample resistance to breakages and weather conditions.
Polycarbonate dome rooflights can cost as little as £99.42 excl. VAT for a single skin 600 x 600 model, and offer a range of glazing options and finishes.
Price range: £298.26 to £1,621.58 excl. VAT (all prices valid as of September 2022)
Manual opening options for your dome rooflight will provide your room with a stunning natural lighting solution, whilst also offering a means of ventilation via the pole operated manual opening capability.
You can save a lot of money by installing a multifunctional rooflight in your room that will aid in maximising lighting efficiency, safety levels, and the general well-being of yourself, your family or your staff. 
Manual opening dome rooflights are operated via a pole which winds the rooflight open, and can be easily closed by hand. The cost of a manual opening rooflight is dependent on the size, glazing and ventilation. They range from £298.26 excl. VAT for the 600 x 600 single glazed model, up to £1,621.58 excl. VAT for a 1800 x 1200, quad-glazed model featuring trickle vents and a clear glaze finish.
Price range: £1,873.37 to £12,433.33 excl. VAT (all prices valid as of September 2022)
Modular rooflights are designed so that individual units may be linked together, allowing for unlimited lengths to best suit your premises. Modular rooflights are the best solution for large skylight requirements.
They also offer a higher safety rating thanks to their structurally double-glazed units and laminated inner glass pane, which can prevent injuries from broken glass should any of
the glass crack or shatter.
Toughened Glass Systems also offer this product with fixed and opening configurations for a bespoke lighting solution for your room, and can be purchased for as little as £1873.37 excl. VAT for a fixed unit.
Price range: £351.75 to £1,217.63 excl. VAT (all prices valid as of September 2022)
Access hatch rooflights provide an easy access solution for your roof space, featuring gas springs and a hinged dome unit that is incorporated into the internal mechanism to allow for up to a 90° opening. 
These sleek and contemporary rooflights are available in either double or triple glazed skins for extra thermal efficiency. They come in sizes ranging from 900 x 750 mm up to 1800 x 900 mm for as little as £351.75 excl. VAT. 
Price range: £1,325.60 to £2,702.63 excl. VAT (all prices valid as of September 2022)
If you are looking for a reliable safety solution for your home or business, a smoke vent rooflight provides a range of safety options without compromising on natural light efficiency. 
These ISO9001 approved rooflights offer comfort ventilation, heat exhaustion, and natural smoke ventilation, and can be ordered to include safety features such as a control panel, fire switch, fireman's priority switch, and a smoke detector for an additional fee.
Prices for this model can be as low as £1325.60 excl. VAT for a double-glazed model fitted on a Builder's Upstand.
How much is it to install a rooflight?
Rooflight installation costs vary, but average prices can start from around £250 for a small rooflight if your fitter is already undertaking the build of the flat roof extension project. Prices would be more if you're contracting a fitter to install the rooflight to an existing flat roof extension as additional work would be required. This is in addition to the price of your skylight. As always, we recommend discussing everything thoroughly with a rooflight expert to make sure you find your perfect feature at the best price. 
Choose Toughened Glass Systems for rooflights and skylights
We are a client-orientated company with a focus on quality products at fantastic prices. Our knowledge and expertise allow us to help people and businesses throughout the UK find their perfect rooflights, and our client reviews are full of positive testimonials.
If you have any questions, or would like to receive a quote from our team, visit our contact page, call 020 3633 3224, or email us at [email protected].
FAQs
Is installing a skylight worth it?
Installing a skylight in your home can offer increased thermal efficiency and luminosity for your room through natural lighting. This will in turn allow you to save money on your energy bills by reducing heat loss and the need for light bulbs.Is it cheaper to put in a window or a skylight?
This is dependent on the type of window or skylight you have installed. The initial costs of installation can vary depending on quality, but the overall thermal and lighting efficiency provided by a skylight will save you more money in the long run.
Do skylights increase home value?
Skylights are seen as a positive feature in most homes, and can even be advertised as a main feature to increase interest in the sale of your home or property. The aesthetic value and cost-saving potential of a skylight can offer a unique selling point for your property. 
Do you need planning permission for rooflights?
You are not required to obtain planning permission for a rooflight or skylight on most instances, however certain areas may have restrictions. If in doubt, you will need to contact your local authority to obtain permission if required.
Do skylights require maintenance?
A professionally produced and installed skylight should require little to no maintenance, and can even be ordered with self-cleaning options to reduce the need for cleaning maintenance.
Are custom rooflights more expensive?
Custom rooflights are likely to cost more than regular rooflights. However, getting a  skylight that's tailored to your building can save you money in the long run, as well as looking visually stunning. 
How much do flat roof rooflights cost and are they worth it?
Flat roof rooflights can be sourced from various places, from off-the-shelf versions at large DIY stores, to custom-built windows from specialist glass suppliers. Is the latter an expense worth undertaking; and how much should you spend? There is no right or wrong answer – it depends on your requirements and budget, as well as the quality of the company you are considering. But here are some tips on getting the best deal. Before you begin shopping around for suitable suppliers of flat roof lights, it is worth researching your options and making a list of essentials – things you cannot compromise on.
Rooflights for flat roofs prices generally rise in proportion to the dimensions and complexity of the design required. A small, non-opening unit naturally cost considerably less than a larger one that can be opened electronically. Therefore, list desirable features, which may include triple glazed units, self-cleaning glass and so on. Be prepared to pay a little more for the most energy efficient windows if you can, as these save you money over the longer term. One essential factor to bear in mind, though, is that the benefit of sourcing flat roof skylight or rooflights for your home from a specialist, experienced supplier with a good track record can't be underestimated. After all, it is yours and your family's safety that is at risk if something goes wrong.
Ask any supplier you approach about safety standards and whether guarantees are provided that cover the window and/ or the installation work in case there are any problems in the future. If you are looking for flat roof skylight prices from a specialist firm that excels in glass supply, speak to us at Toughened Glass Systems.
You can view our product range and receive a free quote for your project on our website. We're always happy to advise business and domestic clients alike: call us 020 3633 3224 or email us at [email protected] with any queries.
Rooflights at great prices
View our range of rooflights and skylights below:
More useful blogs: