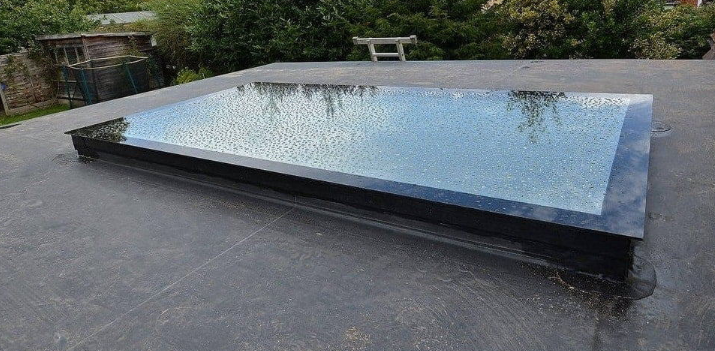 Skylights installed on a flat roof make an attractive addition to properties. They enhance the natural light that floods into a building and can even offer extra ventilation if you choose an opening window. But is it something you should consider for your home if you have a flat roof?
Luckily, installing a rooflight on a flat roof is common, and there are lots of options available to you if this is something you're considering. In this blog, we'll look at what those options are, and help you find a solution that's right for you.
What kind of roof can a flat skylight be installed on?
The good news is that it is entirely possible to install a skylight on a roof of almost any type, without the need for a roof replacement. Alongside the usual challenges that come with fitting such a window at height, your installer will have to take into account the need to ensure that a skylight for your flat roof is fitted at a minimum slope. This is to ensure that rainwater runs off without pooling and creating potential problems with damp and mould. The recommendation is that skylight installations should be fitted with a minimum fall of three degrees.
This is usually sufficient for any sized window, and will ensure that water does not accumulate on the surface, only to evaporate at a later date and leave unsightly staining and dirt on the glass. To avoid problems with over exposure to UV rays in the room below, flat roof skylights for homes should be positioned correctly – it's often recommended to avoid south-facing aspects, as these attract the most sunlight. However, as one of the main purposes of a skylight is to capitalise on the natural light, it is instead possible to select a glass specification that blocks the UV rays while still allowing sunlight to pour into the room below. Contact us to find out more.
What are the different types of rooflight for flat roofs?
Flat roof skylights can provide a range of styles and functionality. From aesthetic choices that add style and elegance to your room, like a framed flat skylight, to safety and access solutions such as an electric opening rooflight, there's a skylight for every need available from Toughened Glass Systems.
Expand your living or work space and attract more natural light into your room with our stunning flat rooflight. Beautifully made, energy efficient, and made-to-order, they're sure to provide the perfect solution.
Electric and manual opening roof lights provide your room with an elegant natural lighting solution, with the ability to open for ventilation or access purposes.
Manual opening rooflights come with a pole for opening from ground level, whilst electric rooflights are operated by switch automatically.
Our framed flat skylights come with a frame to allow the installation to seamlessly blend in with the windows in your room.
Walk on rooflights are specially toughened to support human weight, depending on the size of frame ordered, and will give your roof natural lighting without reducing the available walking space. Ideal for terrace gardens.
Access hatch rooflights combine lighting and access for safety, decreasing energy usage and increasing the overall safety rating of your building for one price.
How much does a flat roof skylight cost?
One of the major considerations when choosing the appropriate type of windows for an extension or existing roof space will, of course, be budget. Rooflights for flat roofs prices will inevitably vary widely, depending on the type of window, glass, and frame you select. One thing that is worth mentioning, though, is that purchasing rooflights is an investment in your property, and one that will pay off over time. Not only will you benefit from more natural light – which has been proven to improve mental and physical health – but most options on the market these days are energy efficient, so will contribute to cutting your energy bills. Over the longer term, these types of windows could well pay for themselves.
In addition, you will also find that you are adding to the value of your property. While it's hard to measure exactly what return on investment you'll get from a specific type of skylight, they will certainly increase the aesthetic appeal of your home or office space. They make the room appear bigger and brighter, and this creates an instant, positive reaction from prospective buyers. When it comes to deciding on a budget for your new rooflights, bear in mind that you are more likely to reap these benefits if you invest an appropriate amount in good quality skylights, supplied by a professional, experienced firm. Toughened Glass Systems have put together this complete guide on Rooflight and Skylight prices. Take a look to discover our incredible prices.
Benefits and myths
Skylight for flat roof in UK homes have always been popular as a feature, but have sometimes been avoided by householders because it's thought there are disadvantages. Here, we'll look at the benefits, list the myths, and explain the most common mistakes people make when choosing a flat skylight.
Looking at the positives first, the right skylight not only helps illuminate a dark room by allowing in natural light, it also has the effect of making a small room look much bigger. Flat roof skylights give the illusion of more space by opening up the ceiling and making it look wider. Daylight from roof skylights for homes also increases the visual appeal of architectural detailing in your room, defines spaces better, and enhances the colours you use on your walls and elsewhere in your décor. Moreover, the increase in natural light has health benefits too. It promotes physical and psychological benefits on mood, ensuring that the inhabitants take advantage of vitamin D from the sun. When used in kitchen and bathroom extensions, for instance, where environments can be damp, natural lighting also helps inhibit the growth of harmful organisms such as bacteria and fungi.
So, what about the negative aspects? Well, skylight flat roof windows have often been associated with leaks, mould and mildew. However, this is only likely to occur if you choose the wrong window for your space, or if it is installed incorrectly. A good contractor ensures the unit is correctly sealed and fitted, so that no rainwater seeps onto your walls or ceiling. It's also widely thought that skylights actually make your energy bills higher, because they cause draughts and heat leaks out of them in winter. Again, speaking to an expert company about this will alleviate your concerns. Today's roof lights are manufactured with energy efficiency in mind and are more likely to reduce your electricity bills -l;earn more about rooflights and energy efficiency.
Choose a professional firm
You may have heard worrying stories about skylights becoming compromised by the weather and causing damage to the fabric of the building. Additionally, low quality flat roof skylights can allow excess sunlight to enter the room, which can impair carpets and soft furnishings, and even cause skin damage to its occupants.
Ultimately, the performance of your rooflight depends on the knowledge and expertise of the company you go to. As you can see, flat skylights for flat roofs have huge advantages, but choosing the right specification and skylight installation can be a little more complex than simply buying an off the shelf roof light from your local DIY centre. Why not take expert advice from Toughened Glass Systems? You can call us on 020 3633 3224, email us at [email protected] or use the online contact form on our website if you have queries about the kind of skylight that will be beneficial for your home. All our products are manufactured to high standards, and are guaranteed to be safe, long-lasting, practical and visually stunning. See what our clients had to say about us in our testimonials, and view our cheap rooflights today.
More rooflight and roof window products
Skylight blogs: