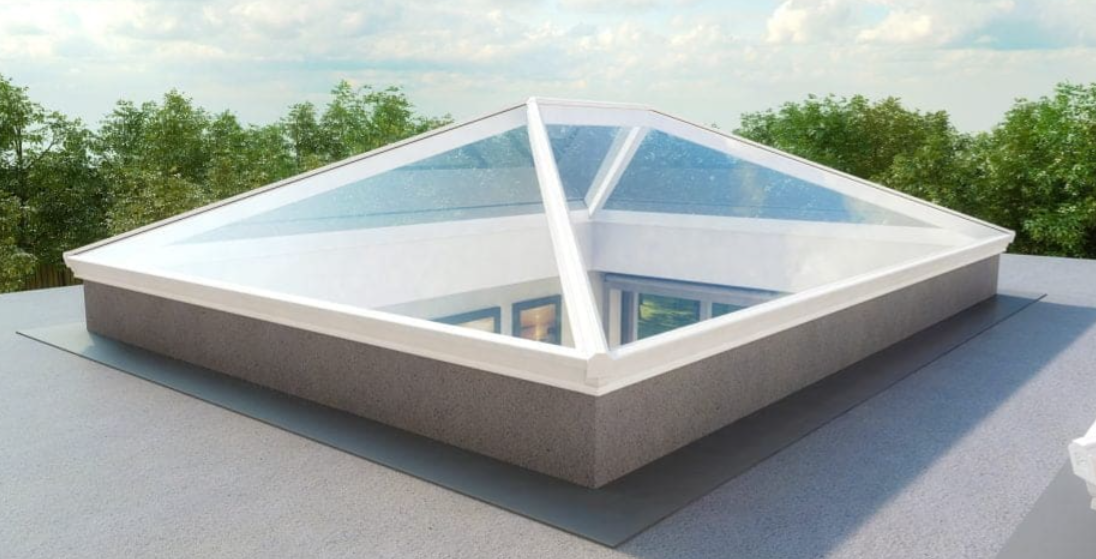 Flat glass rooflight or one that's pyramid or lantern shaped? This is a dilemma that faces many homeowners when they plan to fit a skylight to a roof or building extension. It's true that a pyramid or lantern-shaped glass structure is architecturally striking, and adds an instant wow factor to the look of the room it's located in. But there are very practical reasons why opting for a flat roof skylight might be desirable. Before you take the plunge and part with your hard-earned cash, it's worth considering every angle so you make the best decision.
What's the difference between a flat rooflight and a roof lantern?
The main difference between flat rooflights and roof lanterns is that rooflights have a much lower profile. In other words, it won't stand out much above the roofline. That means in turn that installing a flat glass rooflight doesn't change the external appearance of the building as much.
Because of this, there are likely to be far fewer issues, and therefore hassle, with meeting planning regulations requirements, especially if you live in a built-up or conservation area. And yet there is still flexibility in their use. With flat rooflights, two or more can be joined together in a modular system to maximise the coverage of the roof and offer heaps more natural light, for instance. This is beneficial if you're siting them in a long, thin room. A series of rooflights will add natural light along its full length; whereas a pyramid or lantern-shaped one is restricted in the areas it will illuminate.
Still, there are a number of other elements to consider when comparing flat roof lights and lantern rooflights, and understanding how both types relate to your individual needs will determine which product is best for you. Discover our guidance and comparisons below.
Design
The design of your rooflight or roof lantern is the most obvious starting point. Typically, these installations will vary in size from 500mm x 500mm for a base model, up to and in excess of 2000mm x 5000mm for premium models.
Whichever size you choose, your rooflight is guaranteed to draw attention, so it is imperative you purchase a model that will add to the overall look and design of the space your skylight is installed in.
Roof lanterns
As an architectural feature, lantern rooflights give the appearance of increased room size thanks to their unique pyramid shape that offers dynamic lighting capabilities, and can also be visible from outside of your home because of their protrusion from the roof space. This can add an elegant and eye-catching appearance to your home or office.
Flat rooflights
The design of a flat rooflight is best considered when subtlety is key to your room. Whether as an addition to your home, office, or warehouse, flat rooflights provide a delicate design solution for your lighting needs, opening up unused and often uninspiring ceiling space to natural lighting and skyward vistas.
Lighting and glare
One of the most important factors involved between roof lanterns and rooflights is the lighting and glare potential of the installation. This is key when energy efficiency and the well-being of yourself or your staff is one of the main considerations for your purchase. Read on to find out more, or view or article on how rooflights can make your home more energy efficient.
Roof lanterns – lighting potential
Roof lanterns will provide better light coverage throughout your room due to their pyramid design. As a four-sided object, roof lanterns have the potential to direct light to each corner of any conventionally shaped room, as each pane of glass will be able to refract sunlight in one of four directions.
In this sense a pyramid roof light, or roof lantern, acts in a similar way to how an unshaded light bulb works inside a room, but with the added benefit of not having any electrical requirements.
Roof lanterns – glare potential
The overall glare potential of a roof lantern is also considerably reduced when compared to a flat roof light. Glare can happen for a number of reasons that range from the type of glass used in a window installation to the design of a room, and in some cases due to the health of an individual's eye.
When direct sunlight hits the surface of a window it can sometimes cause glare. Roof lanterns can help alleviate this issue thanks to their four-sided shape, which means that direct sunlight will not hit the entire installation at once, therefore there may only be glare present on a single panel at any one time.
Flat rooflights – lighting potential
Flat rooflights can thoroughly illuminate your room with natural light, eliminating the need for powered lighting throughout the day. They will catch sunlight without refracting its direction, meaning that the lighting of your room will more noticeably change with the movement of the sun throughout the day.
Flat rooflights – glare potential
The shape of these flat glass rooflights does mean that if glaring occurs due to direct sunlight, the entire installation will suffer from glare until the source of light has moved.
Price
Pricing guide accurate as of October 2022.
Roof lanterns and rooflights can be highly customisable to suit your needs, and Toughened Glass Systems provide both roof lanterns and flat rooflights in a range of prices depending on materials used, size, pitch, or even opening requirements.
Explore our expert guidance on prices below, or view our Rooflight and Skylight Cost: A Complete Guide blog post.
Roof lanterns
Roof lanterns and pyramid roof lights can range from £436.51 ex VAT for a four-panel, 500mm x 500mm model featuring neutral glass, up to £4,453.77 ex VAT for an eight-panel, 6000mm x 2500mm model featuring Ambi Aqua 1.1 W/m2 glass.
Each model can be ordered to meet a high degree of specific requirements. You can talk to our expert team today to discover more about our prices.
Rooflights
Flat rooflights vary in price from £266 ex VAT, up to £5,000 ex VAT for a 1500mm x 2000mm model with triple glazing.
Insulation
Insulation requirements should be a main priority when deciding on any kind of rooflight or roof lantern installation, as the thermal efficiency of these products can save money on your energy bills throughout the year.
The thermal efficiency of these installations is relative to the size, finish, and glazing options chosen for your model, and is not necessarily affected by the flat or pyramid design of the product.
The only factor that differs between these products is that a pyramid rooflight, as previously mentioned, can more efficiently capture directional sunlight at varying angles. As such, the air molecules around the room will more directly interact with the directional infrared radiation throughout the day.
Size
Size is an important factor to consider for a number of reasons. Firstly, the simple issue of available roof space will dictate the size of roof lantern or flat rooflight that can be installed.
First, you should observe your available space, and whether access is required on the roof. For instance, if you require walking space on your roof for the purposes of maintenance or general access, then you should aim to order a product that will not take up a sizable amount of the walkable area.
The second point to consider with sizing options is how much sunlight currently reaches your roof throughout the day. In some cases, a smaller roof light or roof lantern may be just as suitable as a large installation if your roof benefits from sustained sunlight throughout the day. For example; if there are no tall buildings, trees, or other obstructions creating shadows over the roof.
Ventilation
Ventilation options are only available on specific flat rooflights, such as the Toughened Glass Systems Electric & Manual Opening Rooflights, or Polycarbonate Electric Opening Rooflights. As such, you would need to consider which are the most important primary functions of your new installation.
If ventilation is a deciding factor in your purchase, then you should view the options mentioned above in order to suit your needs.
Cleaning
Self-cleaning glass is provided as standard on our Roof Lanterns and Pyramid Rooflights, and can be included as an optional extra on all of our Toughened Glass Flat Rooflights.
The self-cleaning properties of this glass come from a hydrophilic coating, which acts in 2 parts.
The coating repels water to allow the droplets to fall off easily, much in the same way that a flower will cause water to trickle off its petals rather than clinging to them.
The titanium dioxide coating reacts with ultraviolet (UV) radiation from the sun to generate electrons that denature the organic material clinging to the glass, such as dirt or insect matter, allowing rainwater to wash it away.
The Wendland Roof Lantern includes self-cleaning as standard.
Installation
Installation for both types of roof window is quick and easy. Toughened Glass Systems provide step-by-step guidance on all installation processes, which can be performed by any competent builder or roofer. They can also be fitted directly to pre-installed builders upstands, where appropriate.
The main point to consider regarding installation of roof lanterns and rooflights, however, is the actual pitch of your roof. Read on to find our guidance on roof window installation.
Roof lanterns
Currently, roof lanterns can only be installed on a flat roof. This is perfect as an aesthetic addition to your premises, but keep in mind that rainwater will fall off the pitched sides of a roof lantern, and gather on the roof. For this reason, adequate drainage should be present or installed to ensure that water is not gathering on your roof.
Rooflights
Roof lights can be installed to match the pitch of your roof, and as such are an ideal choice if you have an angled section of your building you wish to install a rooflight on. These types of installations mean that water will still fall from your roof at a regular angle, rather than creating a flat space that was not previously there.
Planning permission
Our last discussion point regards planning permission, a common question for anyone looking to have a roof window installed.
Roof lanterns
Roof lantern installations will not usually require specific planning permission, however there are some permitted development rules that must be observed so that permission is not required.
Your roof lantern must not extend above 150mm of the slope on your existing roof.
A roof lantern cannot extend higher than the current highest point of your roof.
Roof lanterns must not include an opening feature. 
Roof lanterns positioned on a side elevation must feature obscured glazing.

Rooflights
Rooflights will also not require specific planning permission. The only stipulation for this type of installation is that any rooflight that is facing the side of a building must also feature obscured glazing.
Interested in a rooflight or roof lantern?
If you're looking for a flat rooflight or roof lantern, you'll find an impressive selection at Toughened Glass Systems. We are experts in the field, and our customer reviews attest to our quality products and service. Don't hesitate to contact us if you have any questions, or view our full collection of rooflights and skylights today.
More blogs you'll find helpful