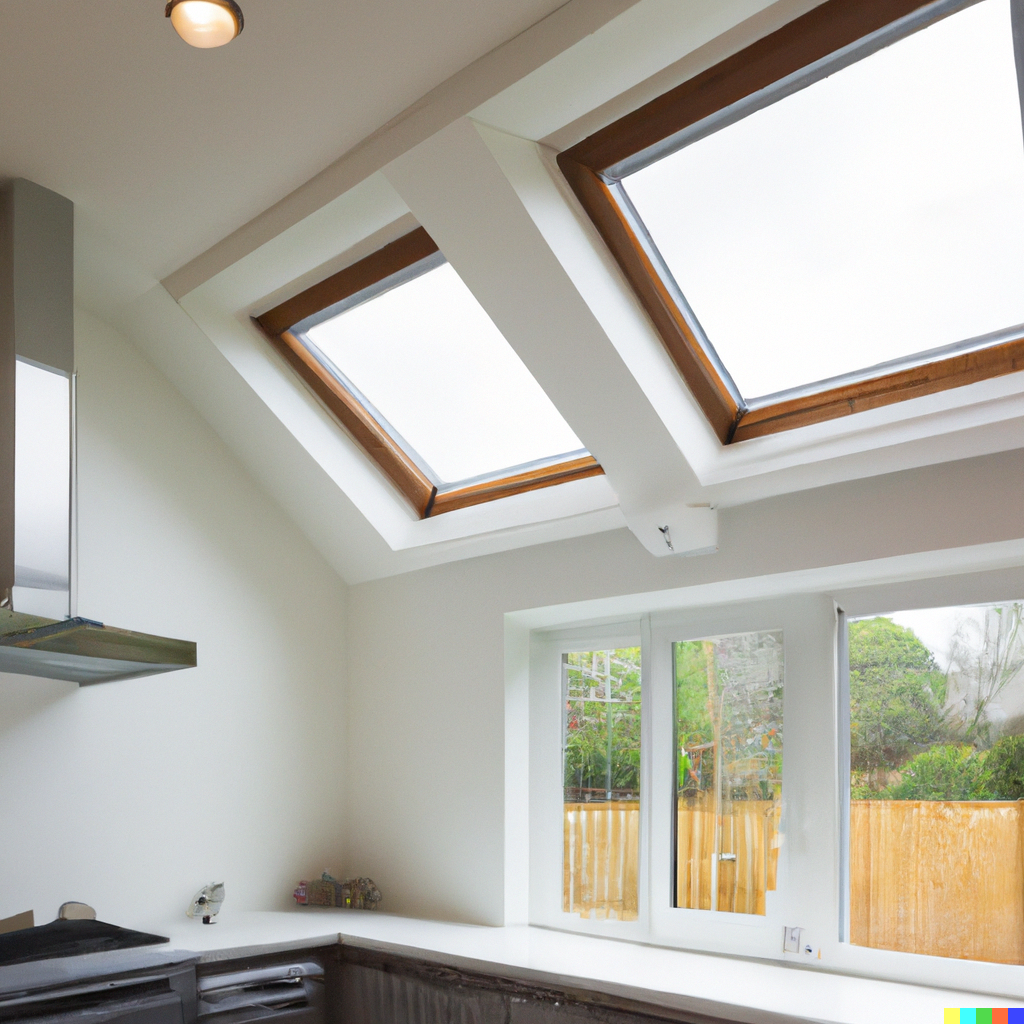 Bespoke rooflights can make a hugely positive impact on your kitchen conversion, or on an extension that you intend to use as a kitchen. While a flat roof skylight can add light and character to any room that you add to your home, they are especially advantageous in the kitchen. As well as adding light and an additional source of fresh air, if you consider rooflights that open, they can also reduce your energy bills and give you an improved sense of wellbeing. The kitchen is often the heart of the home, so it is worth giving a little extra thought to how you are going to let natural light in.
Looking to install a rooflight in your kitchen? View our full collection of rooflights and skylights to find one that best suits your needs.
Contact our expert team today to discuss how Toughened Glass Systems can improve the thermal and lighting efficiency of your kitchen. Read on for our full guide to kitchen rooflights.
Why a skylight is perfect for your kitchen
Kitchens are much more than just places where you cook and prepare food. They often double as dining areas, the chosen place for homework, and a place to sit and enjoy time with visiting friends and family. For these and many other reasons, you need to plan your kitchen extension or conversion carefully with a rooflight company to ensure that it meets your needs. Lighting is a vital component of this planning stage. Natural light is always preferable to artificial light where possible and considering bespoke rooflights widens these possibilities greatly. It means that if you are creating or converting a single-story extension, you can add sources of natural light without reducing the wall space available for storage. It also provides you with a greater choice of where the light is positioned so you can focus the light and warmth in the places that you need it the most, such as directly over your dining table.
Let's look at some key reasons to choose a kitchen skylight.
They make your kitchen a more beautiful and practical place to spend time in
Kitchen roof lights offer huge advantages over standard, wall fitted windows. The kitchen is often referred to as the heart of the home and research shows we increasingly spend a lot more time in our kitchens than we did in the past. As space becomes a premium, the kitchen is often an eating area, as well as being used for food preparation. Breakfast bars, integrated dining areas and overall open plan design are all choices increasingly made by homeowners planning a new kitchen space. By installing a flat roof skylight, much more becomes possible in terms of making your kitchen both beautiful and a functional place to live.
They're a great space enhancer
Ask any homeowner what their prime must-haves in a new kitchen are and they're sure to list maximum cabinet space high up on the list. After all, we all love our gadgets and these days, and there are a whole host of labour-saving and life enhancing machines that we want to store in our kitchens, without necessarily wanting them on display all the time. And that's without mentioning the storage required for food supplies, crockery, herbs and spices, and other things we need daily when cooking and entertaining.
So, anything that can free up wall space for more kitchen cabinets is bound to be advantageous. By installing one or more kitchen rooflights, you can reduce the need to have a significant area of wall taken up by a window, without having to sacrifice the benefit of admitting natural light to your kitchen area. Kitchen skylights leave more room for cupboards and drawers overall, and that's got to be good!
They'll illuminate your space and can reduce energy bills
You need a strong light source to work effectively in a kitchen for practical reasons. Very often, that means having a harsh, overhead light that's functional, but not very attractive. Roof lights for kitchen spaces, on the other hand, admit tons of clean, natural light all day long – in contrast to a wall-sited window that may only allow strong light in at certain times of the day. As well as enhancing working conditions, this natural light complements your kitchen design better than artificial light.
More than that, it allows you to reduce the amount of time you have your artificial lights switched on, which in turn cuts your electricity bills, saving you money. And finally, choosing an opening roof light kitchen window better ventilates your room and keeps it free from cooking smells. Hot air rises and a skylight in a kitchen ceiling will extract the heat from your cooker or stove, allowing fresh, clean air to circulate within instead.
Learn more about energy efficient rooflights, and see how a kitchen rooflight can add value to your home.
In summary
Kitchen skylights, where appropriate, are a highly practical alternative to typical wall mounted windows. They can help save valuable space in smaller kitchens that can then be used for additional storage, for kitchen cabinets and appliances, or to help contribute towards an uncluttered feel. They are also beautiful, introducing strong, healthy natural light into the room that enhances your overall kitchen design and improving its functionality as a working space. In this article, we look at just a few of the factors to consider if you're thinking of employing a flat roof skylight in a new or existing kitchen area.
Toughened Glass Systems are top of the list for bespoke kitchen rooflights
Considering glass rooflights for flat roofs also allows you to convert or extend areas that would have otherwise been off limits because they provide no other points of natural light. This means you can build outwards towards tall garden walls or an adjoining part of your building without losing access to natural light. As well as being important to your general wellbeing, access to natural light helps to reduce your energy bills, making your bank balance feel better too. Firstly, rooflights provide an additional source of light, which means you need to switch your electric lights on later in the day. Not only does this save electricity, but it means your lamps last longer, saving you more money in the longer term. Rooflights can also bring additional warmth into your kitchen. This means that you need to use less energy to heat the room and lose heat less quickly.
However, to gain access to all these and many more of the benefits of adding rooflights to your kitchen conversion or extension, you need to purchase your bespoke rooflights from a company with experience and a great reputation for quality. At Toughened Glass Systems, we not only meet those requirements, but we also exceed them and your expectations every time. To learn more about our company and our products look through our website. To speak to a member of the team about your kitchen conversion or any other project that requires new windows call us on 0203 633 3224.
More rooflight products
Frequently asked questions
Why introduce a flat roof skylight into a kitchen?
Skylights are most commonly thought about in connection with loft conversions, or perhaps in a living room, but there's nowhere better to add this valuable light source than in a kitchen. Kitchens are practical spaces, where various types of lighting are needed to improve the room's functionality. As well as ambient lighting, for instance, to enable users to move around without bumping into things, kitchens also need task lighting, so that you can prepare food and so on.
While ceiling or wall mounted lights can illuminate even the darkest corners of your kitchen, there's really no better type of light for a frequently-used workspace than natural daylight. And that's where kitchen skylights come in. Perhaps you have a kitchen in a recently built, single story extension attached to your house.
Maybe you have a basement kitchen that suffers from a lack of external windows, or an attic kitchen which can feel small and claustrophobic because of sloped or slanted ceilings. No matter the scenario, kitchen roof lights will help open up the space. They'll create a new sense of airy spaciousness by offering a superb view of the outside world, while bringing much needed ventilation to keep your kitchen feeling fresh and vibrant.
Position roof lights for kitchen spaces above work surfaces that are in frequent use, or over any breakfast bar, kitchen island, or dining table, if you have one in your room. Of course, you will still need pendants or downlights for dark evenings, but you'll be amazed at the difference natural light will bring to the look, feel and functionality of your kitchen space.
How do skylights make spaces feel more open?
The introduction of additional, natural light makes any small or narrow kitchen instantly look more open and appealing. Unlike a wall mounted window, a skylight distributes a whole flood of natural light more evenly across the whole room. This can create a fantastic effect, especially if you have opted for darker coloured kitchen cabinets and work surfaces. In fact, it's estimated that roof windows can introduce between three and ten times the amount of daylight into a room than a standard, wall-sited window. This is because they allow both ambient lighting from the sky to flood into the room and also, of course, direct light from the sun. Then there's the type of glazing used in rooflights.
The right kind of transparent or translucent glass can capture available sunlight, even when the sun is at low angles, and diffuse it more widely than side lighting from wall windows across the floor and work space in your kitchen. All in all, skylights like ours introduce light even on dull, overcast days. Of course, this may on occasion create too much glare, so you may also need to consider including blinds when you place an order for roof windows. These will be specially designed for the Roof Maker skylights in question, ensuring that the fit is perfect. It's even possible to choose blinds that have thermal properties, ensuring heat loss from your kitchen is minimised. This is a bonus way to help reduce energy bills during those cold winter months.
How often does a rooflight kitchen window need replacing?
Kitchen skylights are exposed to the elements. If you invest in a high quality model, you should expect around 5 to 20 years of good service out of it. But perhaps you've inherited a roof light kitchen window, and it is starting to show wear and tear. Cheap or poorly fitted skylights may begin to leak air or water. Nobody wants to go to the unnecessary expense of having a whole new window fitted if a quick repair job will do the trick, though, so when does a skylight need replacing and when is repair a realistic option? If a skylight is less than five years old and shows signs of an occasional leak, then it's likely to be a problem with the flashing, the glazing seal or any mechanics involved. That's a small job that can be carried out quite quickly and with minimal expense.
An older rooflight with a more persistent leak may require greater work. Often, removing some of the flashing material around the window and replacing it will do the trick. But if the leak persists beyond this, then it's entirely possible that ongoing repairs will eventually cost more than just replacing the whole unit, so to keep patching it up will just become a false economy. That expense, of course, may also include ongoing repairs to internal decoration that may become damaged by incoming water. Replacement is often a good opportunity to look at new technological advances in skylights, like more energy efficient units. If you need a new skylight, look no further than the extensive range offered by Toughened Glass Systems.
Do I need planning permission to install a kitchen rooflight?
It is unlikely that you will require express planning permission in order to install a rooflight on your kitchen, particularly if you are not altering the structural integrity of the premises, such as removing foundational structures to facilitate the installation. You should also have your roof assessed to ensure that the rooflight installation can support the weight on the roof.
If your premises is a listed building, then there may be specific laws in place that prevent structural or aesthetic changes that do not improve the integrity of the building.
It is also important that you check the government's planning portal for detailed information on planning requirements.
How much do kitchen rooflights cost?
The cost of your kitchen rooflight will vary depending on factors including:
What is G-value?
The G-value of your window indicates how much thermal energy, or infrared light, is effectively transferred into your room. G-values are usually represented in percentage or decimal expressions, for instance, a G-value of 1.0 would be 100%; whereas a value of 0.5 would be 50%.
A higher G-value is achieved when less glass or coating is present. A G-value of 1.0 would mean there is no glass present. Typically, the usual building regulation compliant double glazing units will have a value of around 0.7.
More helpful blogs: