According to a range of scientific research studies, the increased natural light from rooflights can improve productivity in the workplace. Wonder why employees always fight over the window seats? That's because they instinctively know it improves their health and well-being, as well as their creativity and ability to take on board new information! But what are the reasons behind this, and why are fixed rooflights and roof windows better than traditional windows? Find out in our helpful guide.
Why is natural light important in the workplace?
Roof windows can admit up to three times more natural light than windows positioned in the wall of a building. Plus, workers inside are likely to benefit from greater exposure to natural sunlight if window openings are positioned overhead. This fact is important, because sunlight helps your skin produce vitamin D, which in turn promotes strong and healthy bones, and can help prevent diseases such as cancer and heart disease. Moreover, sunlight is thought to help guard against weight gain and depression. Flat roof skylights, which offer greater access to natural light, can help improve sleep patterns and create a more positive, stress-free atmosphere too.
Studies have additionally shown that access to good daylight sources in workplaces resulted in increased productivity and creativity. Amounts of sick leave also significantly reduced among workers with good access to daylight.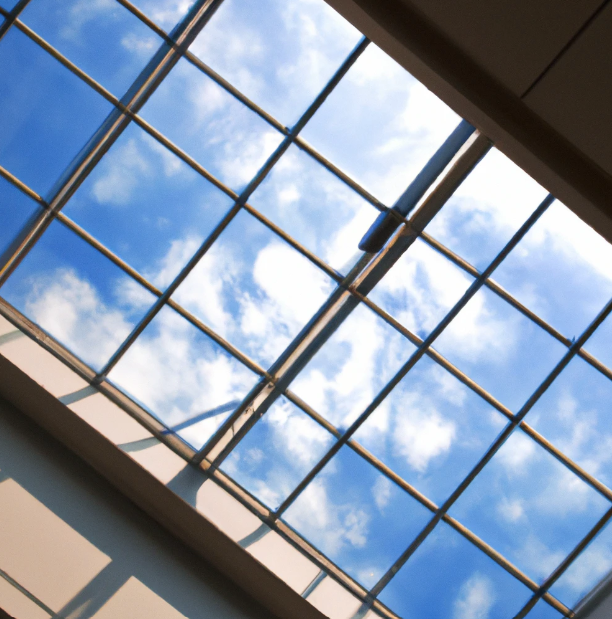 Combat seasonal affective disorder (SAD)
Seasonal Affective Disorder (SAD) is a mood disorder often experienced by people without pre-existing mental health conditions, in which severe drops in mood occur during a change of season, particularly during the winter months.
SAD is widely believed to be caused by a lack of sunlight throughout winter. This is in part due to reduced levels of vitamin D absorbed by the body in winter, but also because your body uses sunlight to regulate its internal clock, known as the 'circadian rhythm', which dictates sleep functions.
SAD is estimated to affect around 6% of the general population, with a further 10-25% of people with pre-existing mental health conditions also suffering from seasonal mood changes.
During winter months, a skylight installation offers additional natural lighting to a room that would otherwise be lit only by electric light. The introduction of natural light throughout the day will maximise levels of vitamin D absorbed during working hours, which in turn creates a healthier working environment, rather than one which would otherwise starve employees of beneficial sunlight in their working day.
Discover our extensive range of rooflights and skylights, or contact us for more information.
A healthier workforce
According to studies by Cornell University, New York, workers exposed to natural lighting can enjoy an 84% decrease in health issues such as headaches, blurred vision, and eyestrain. Because tiredness and fatigue are also linked to a multitude of other health issues, the benefits of creating a well lit environment cannot be understated.
Reduce utility costs
Other benefits to a skylight installation include reducing your utility costs by removing the need for powered lighting throughout the day. In the current economic climate, it is imperative to explore all options for reducing your overall energy costs. As such, the initial cost of a skylight installation will make your building costs more sustainable long-term.
Our blog, 'Are Rooflights Energy Efficient?', features more information.
Spacial and organisational advantages
One of the main issues with traditional windows is the amount of space they require. The wall area they occupy cannot be used for anything else without blocking out the light and reducing the ventilation they provide. The use of the area directly in front of the window is also restricted for the same reasons. This means that you need to account for this space when designing your floor plan. This affects a host of commercial buildings, warehouses, and offices.
All of this means that you may need to lease or buy a property that is larger than you want just to get the clear floor and wall space that you need. This can be frustrating and costly. Not only do you have the additional cost of the property, but also the additional costs of running the property, such as heating, lighting. Installing a roof skylight is one way to reduce all these issues. A fixed skylight reduces the need to have traditional windows installed. While you may still need them, you can limit them to those that are completely necessary, without reducing the amount of natural light coming into the building.
Overall, this means you can better utilise your wall space to meet your business's needs, either saving money on a smaller property or using the extra space to expand your operations.
A ventilated workspace
Increased space, better organisation, and improved use of wall storage are not the only benefits associated with installing roof lights. If you choose opening skylights, you can also improve ventilation and natural light distribution throughout your workspace. While traditional windows provide both natural light and ventilation, the light is limited by the positions of not only of the window itself, but also of the buildings around it. If you are surrounded by buildings that are of the same height or are taller, then they may block much of the light that the window is designed to let in. You may also find that in these situations, airflow is also affected, and that any air that the windows do let in is far from fresh or inviting.
Not only do opening glass skylights for flat roofs have better access to the light, but they are also able to capture it for longer as the sun moves across the sky during the day. Depending on the structure of your building, you may find that you have greater choice when it comes to where these windows are positioned. This means that you can make the most of the light that you capture. Where you choose roof windows that open, you can take advantage of the cleaner air above your building. You can also ventilate your workspace with less risk of sudden gusts coming through a wall window and spreading paperwork across your office, or having to chase merchandise across the floor.
Increase your building's footprint
While rooflights can help you reduce the amount of office or workspace you need, they can also be used to help you expand into new spaces without needing to move to new premises. If you work in a building that has an attic or loft space, then adding a skylight allows you to better use that space. Our pitched roof windows are ideal for lofts with sloped roofs.
The addition of light and ventilation can create a new office space, an improved storage space, or even a staff break-room. This, in turn, allows you to better use other spaces within the building. Better organisation of space can be a turning point in a business's fortunes. It can allow you to more precisely know what stock you have, to better organise your paperwork and records, and to store things more effectively and safely.
Better use of space can also improve the working environment of your team: always a positive for your business. If you are not currently looking to expand your business or have no need to add space, you could still find benefits in opening up new parts of your building. Adding skylights for pitched roof structures allows you to create new offices or workrooms that you can then rent out. If you run a hairdressing salon, barbers, or holistic healing centre, these can be used as additional treatment rooms, and the income can be used to improve your business however it is needed. To fulfil the potential that a skylight can offer, you need the services of an experienced glass company, such as Toughened Glass Systems.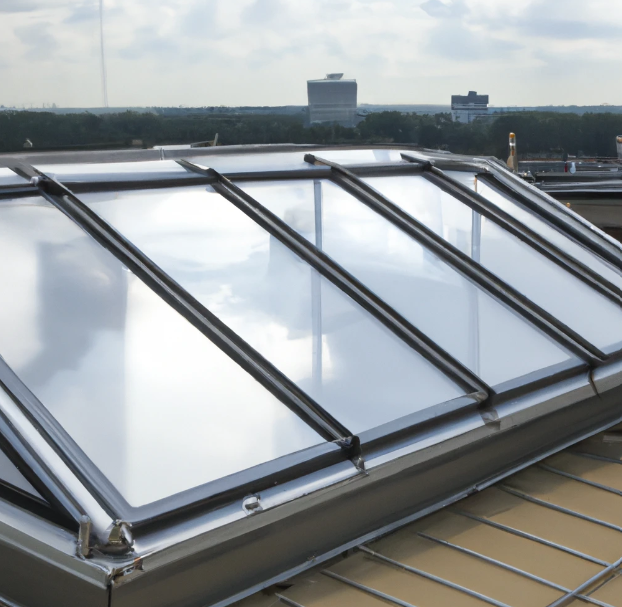 Get your workplace rooflight today
At Toughened Glass Systems, we can offer bespoke rooflight solutions for any workspace. We stock a variety of styles and designs, including:
To find out if fixed roof windows UK wide options could help introduce better working conditions to your office. Call us on 020 3633 3224, email us at [email protected] or use the online contact form on our website for further information.
More helpful blogs: