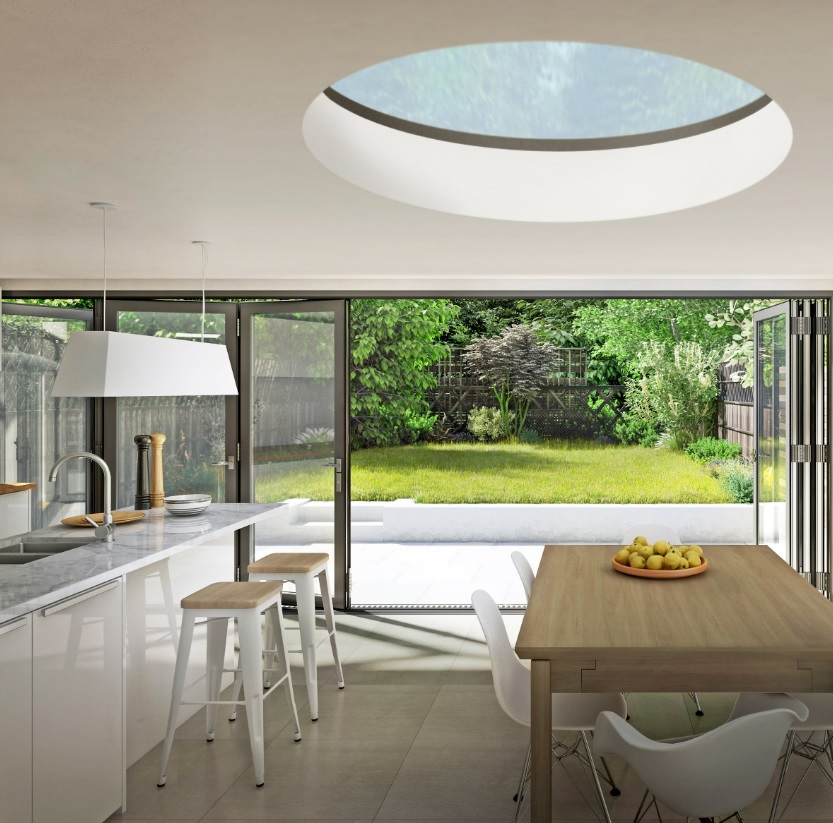 Choosing the perfect skylight for your room is essential to creating a space that is both practical and provides optimal natural light, and understanding the sizes that are available and suitable for each room will allow you to plan your build correctly. Whether you are an architect, builder, or are improving your own home, this guide will help you make an informed decision on how to fully optimise your space.
Toughened Glass Systems provides a range of skylights, rooflights, access hatches, and smoke vents in a range of sizes, finishes, and with manual and automatic opening options.
Contact our expert team today to discuss how we can improve your room with a professional installation.
What are the standard rooflight sizes?
The most common sizes for a rooflight are between 412mm (41.2cm) to 3000mm (300cm) in width, and between 520mm (52cm) to 2025mm (202.5cm) in length. However, the actual size of your rooflight will be dependent on whether they are installed pitched or flat, if they have opening options, and the general shape of the rooflight.
Rectangular rooflight sizes
A rectangle is the most common shape for a rooflight, and can be found as flat roof installations and pitched opening windows, such as the Fakro Top Hung Roof Window. Rectangular rooflights are available in a variety of sizes and designs, depending on their intended purpose. We have included some examples of rectangular rooflight sizes below:
Width: 600mm to 1500mm
Length: 900mm to 3000mm
Width: 400mm to 1500mm
Length: 600mm to 3000mm
Width: 500mm to 2000mm
Length: 500mm to 4000mm
Width: 1050mm to 6000mm
Length: 850mm to 3000mm
Width: 550mm to 1340mm
Length: 980 mm to 1600mm
Square rooflight sizes
A square shape is more commonly seen in rooflights that are installed as a means of access or emergency ventilation, however, there are also a number of rooflights in this shape that are chosen for aesthetic purposes. When properly considered, the square shape of these rooflights can be utilised to provide your room with partial light covering for a more calming effect, where natural light may not be required throughout the entirety of a room such as in an art studio.
Some common examples of square rooflight types and sizes are:
Width: 750mm to 1350mm
Length: 750mm to 2350mm
Width: 450mm to 2400mm
Length: 450mm to 1800mm
Width: 750mm to 1350mm
Length: 750mm to 1650mm
Width: 600mm to 1500mm
Length: 600mm to 2400
Width: 700mm to 1200mm
Length: 700mm to 2200mm
How do you know what size skylight you need?
For optimum natural light Skylights should generally cover 25-30% of the floor area of a room, for instance, a room that is 6m x 6m (36m²) should feature 3 skylights that are 1000mm by 3000mm (9m²). This measurement is just a guideline however, and personal taste and preference should be considered as the main factor in the type of skylight you install once safety measures have been taken into account.
You may want to provide full natural light coverage for your room, which is best achieved by installing a large rectangular rooflight on a flat roof, or multiple smaller rooflights, to allow natural light to enter the room from a number of angles, regardless of where the sun is positioned throughout the day. This is common for most commercial or office buildings, as well as summerhouses, conservatories, and kitchens.
However, a strategically placed, singular rooflight, can also be utilised to allow for the dramatic introduction of natural light in a room where full light coverage may not be desired at all times of the day. This is particularly common in artist studios, studies, or photography studios.
What to consider when choosing rooflight sizes
Before committing to purchasing a new skylight or rooflight for your home, office, or building, there are a number of factors you must consider.
Type of room
The intended use of your space can help determine where the rooflight will be installed, such as a living area, kitchen, bathroom, conservatory, or office. Each of these areas will have different ventilation and lighting requirements that will affect the type of rooflight you require. You may also need to consider legal requirements for ventilation in your specified room, as this could impact the type of window you have installed. For instance, certain sizes of commercial kitchens may require opening windows to be installed to achieve the correct ventilation. Other rooms such as art studios, or those where noxious fumes are used frequently, will also require manual or automatic opening windows for ventilation.
Roof pitch
The pitch of your roof will affect the size and shape of the rooflight, and any new installation must be compatible with a pitched roof in order to ensure adequate drainage is provided. Even if your rooflight is being installed on a flat roof, it will require some degree of pitching in order to avoid water pooling on the surface – you may not have noticed, but all flat rooflights are installed at a slight pitch to allow rainwater to cascade off them. All manufacturers will recommend a minimum pitch for their products.
Building regulations
It is unlikely that you will require express permission to have a new rooflight or skylight installed, however, there are some cases where this will be applicable, such as if your building is listed, or if there are ventilation and lighting guidelines for your building that must be complied to.
Energy efficiency
Size, design, and glazing can affect the energy efficiency of your skylight. Larger rooflights may allow more heat to escape in the winter months, and more heat to enter in the summer. You may also have specific lighting requirements for your room, and these requirements can be achieved by both the size and position of your window. You may need to assess how much sunlight reaches your room throughout the day, as there may be obstructions such as buildings, trees, or simply the positioning of the room itself which mean that you may only get some or no direct light hitting your window.
Learn more from our 'Are Rooflights Energy Efficient?' blog.
Budget
The size of the rooflight will affect the cost, so it is important to determine your budget before choosing the size, there will also be a charge for installation, and you may want to consider which areas of your house or building to prioritise if you have a limited budget. For instance, take into consideration where sunlight reaches your house throughout the day, it is likely these are the areas where you would want to install a larger window. You can use our product pages to find up-to-date prices on our entire range of rooflights and skylights.
View our rooflight cost guide for more information.
Views and privacy
Lastly, you should consider the privacy levels of your home, and the payoff that installing a large window would have – this particularly depends on the room as well. For instance, if you wanted a large window in your bathroom for increased natural light, it is unlikely that you would want a vertically pitched window in this type of room – particularly if you have neighbours or others who can view this part of the house from outside. In this case, a large window installation for a bathroom can still be achieved by installing your window at a greater pitch, particularly if you have a slanted roof in your bathroom. You can also choose an opaque option for your window to allow for maximum natural light without transparency and privacy issues.
How are skylights measured?
Skylight measurements are made to include the kerb or upstand that is provided with the glass, and not just the hole or opening that has been created for the window. For example, if the hole for your skylight was 880mm x 880mm, the skylight that fits this opening would most likely measure around 900mm x 900mm when the upstand is taken into account. The upstand is vital to framing and placing the glass for the installation.
Can skylights be custom sized?
In some cases, your building may require a custom size rooflight, particularly if you are replacing a non-standard window such as on repurposed buildings like old churches or sports halls.
Toughened Glass Systems provide high-quality glass rooflights in a range of sizes, and many of our rooflights can be custom made to suit your specifications.
Contact our expert team to discuss improving your home or building with a custom-made rooflight.
Frequently asked questions
What are some common rooflight size options?
Rooflight sizes vary considerably. You have many different options to choose from. After all, not only do roof lights look beautiful in a domestic setting, but they are used in a wide range of commercial settings too. Therefore, the design requirements vary dramatically. While there are some companies that only provide standard flat roof skylight sizes, there are glass specialists who will cut your glass panels to size, ensuring you have the perfect solution for your building. It is always better to go down this route.
How can I choose the right size flat rooflight?
So, let's look at the different factors that will help you to make your mind up when choosing from the various flat roof light sizes. Of course, the dimensions of the roof are going to play a pivotal role in your decision. However, there are other elements to think about too. For example, the room's temperature and natural illumination level are going to be impacted by the size of your skylight. Choosing wisely will enable you to control the amount of heat and light that comes into your home. You can create a relaxing environment while also having a positive impact on the environment and reduce your energy bills too. Contrary to popular belief, bigger roof light sizes aren't always best. It is all about having the right size in the right position, which is where an expert service comes in.
When it comes to choosing the right rooflight for your home, it is always a good idea to choose a custom size roof light. A rooflight is not one of those products that you can "shove" into a room and hope it looks great. No, the roof light must be made to suit the room. Otherwise, it's all going to look awkward and disjointed, which is unlikely to be the look you are going for. Custom roof light sizes can also be very beneficial if you have a room that is awkwardly shaped.
You are not going to be held back or restricted if you go down the bespoke route. Nevertheless, you do need to choose a company with care to ensure they carry out your custom requirements perfectly. Make sure they have plenty of experience in the industry and take the time to read reviews that have been left by others.